Updated 11/11/2021
Shipping a satellite is no small feat. GOES-T is the size of a small school bus and weighs over 6,000 pounds! The spacecraft team at Lockheed Martin in Littleton, Colorado, where GOES-T was built, carefully packed the satellite in a special shipping container that protected its sensitive instruments and functioned as a miniature cleanroom during transport. GOES-T was then driven to Buckley Space Force Base in Aurora, Colorado, where it hitched a ride aboard a C-5 Super Galaxy aircraft to Kennedy Space Center. After arrival, GOES-T was transported to Astrotech Space Operations in Titusville, Florida, where it will undergo final processing for launch. Gallery Photo Credits NASA/Elizabeth Wilk, NOAA/Dan Lindsey.
Timelapse Video of the packaging and transport of GOES T
GOES-T: Road to Launch
November 9, 2021 [Written by NOAA NESDIS]
The GOES-T team has spent years building the instruments and spacecraft, integrating all of the satellite's components, and conducting rigorous testing to make sure it can withstand the harsh conditions of launch and residing 22,236 miles above Earth. So it's time to launch it into space, right? Not quite yet!
Since GOES-T is the third satellite in NOAA's Geostationary Operational Environmental Satellites (GOES) – R Series, we can illustrate its upcoming journey with photos of its predecessors—GOES-R and GOES-S—as they prepared for their launches in 2016 and 2018.
Shipment to Kennedy Space Center
First, the spacecraft team needs to carefully pack and ship GOES-T from Lockheed Martin in Littleton, Colorado, where it was built, integrated with its instruments, and tested, to a facility in Florida where it will undergo final preparations for its scheduled launch in early 2022. Shipping a satellite is no small feat. GOES-T is the size of a small school bus and weighs over 6,000 pounds! After being packed in a special shipping container that will protect it during its journey, GOES-T will be driven to Buckley Space Force Base in Aurora, Colorado, and loaded onto a C-5M Super Galaxy cargo transport. Next stop: Cape Canaveral Space Force Station, Florida.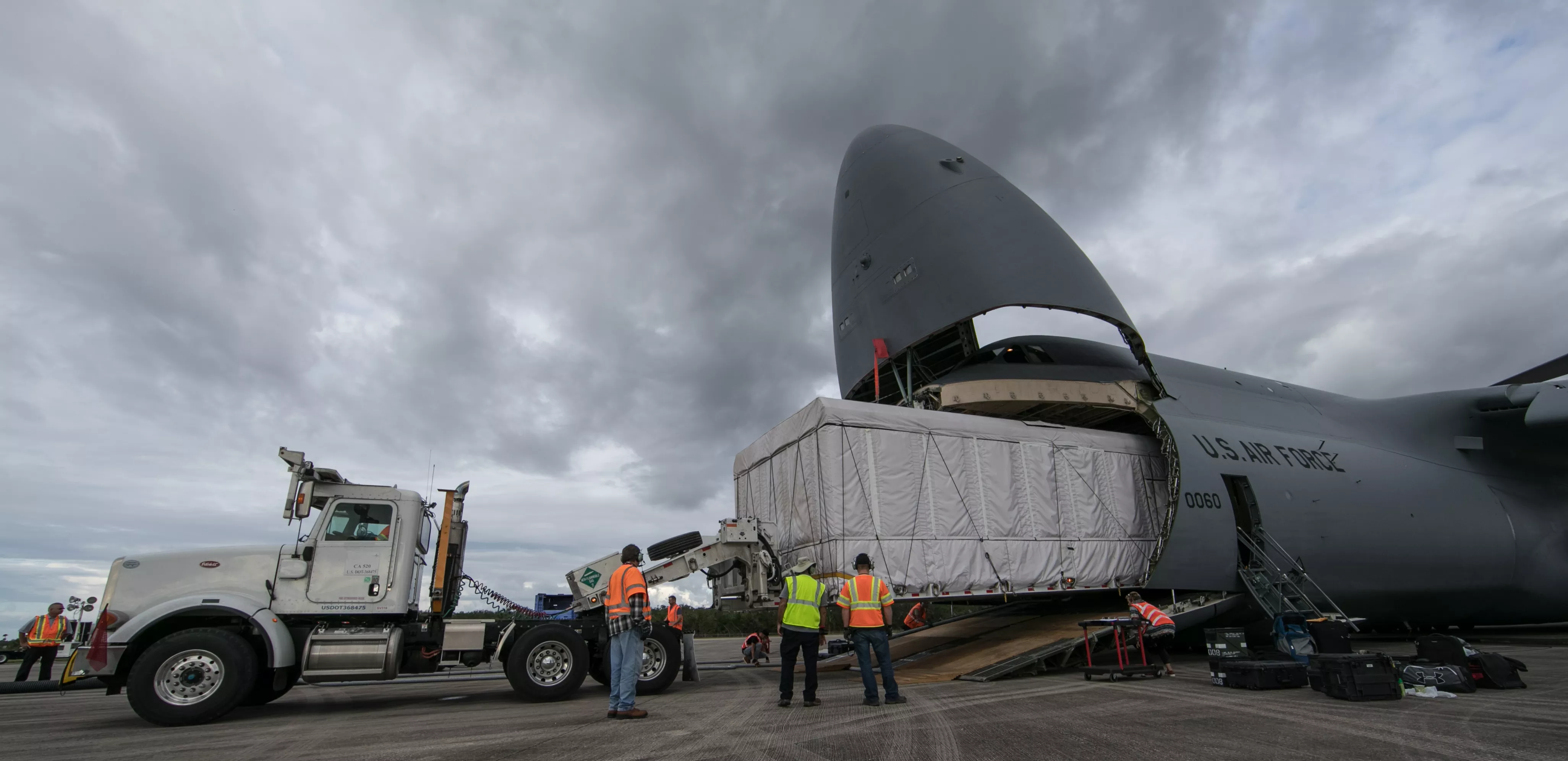 Once GOES-T arrives in Florida, it will be transported to the Astrotech Space Operations spacecraft processing facility in nearby Titusville. There it will be carefully removed from its shipping container, rotated, and placed onto a test stand to begin pre-launch processing.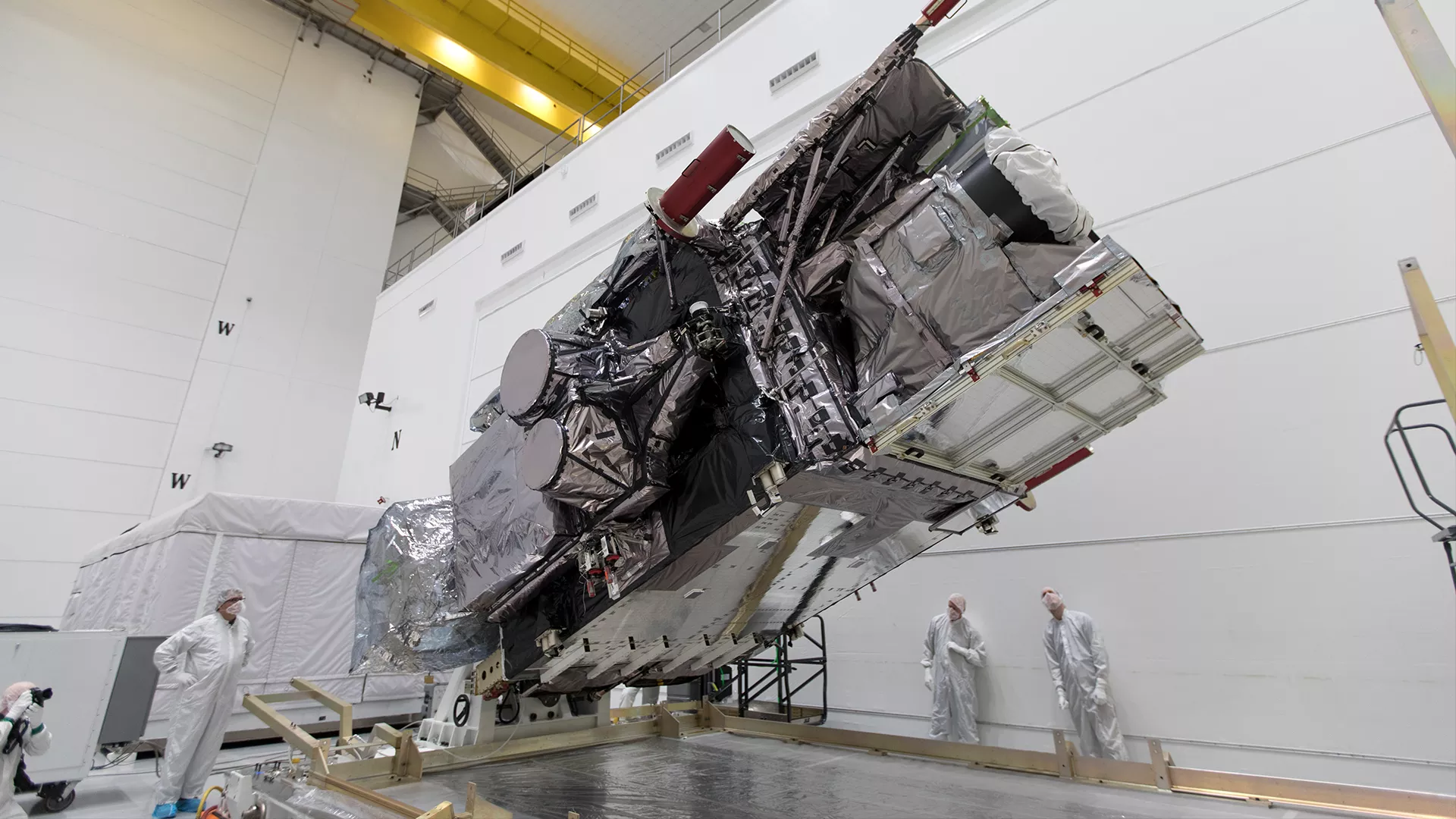 Launch Vehicle Delivery
GOES-T will launch onboard a United Launch Alliance Atlas V 541 rocket, which also needs to be transported to a facility near the launch site and undergo preparations to carry GOES-T into space. The launch vehicle includes two main parts that will work together to deliver GOES-T to orbit. The Atlas V first stage booster is the backbone of the launch vehicle. It holds the fuel and oxygen tanks that feed the engine for powering the spacecraft into orbit. The Centaur upper stage is the vehicle's "brain," providing guidance and flight control and containing fuel and oxidizer to insert the vehicle into orbit.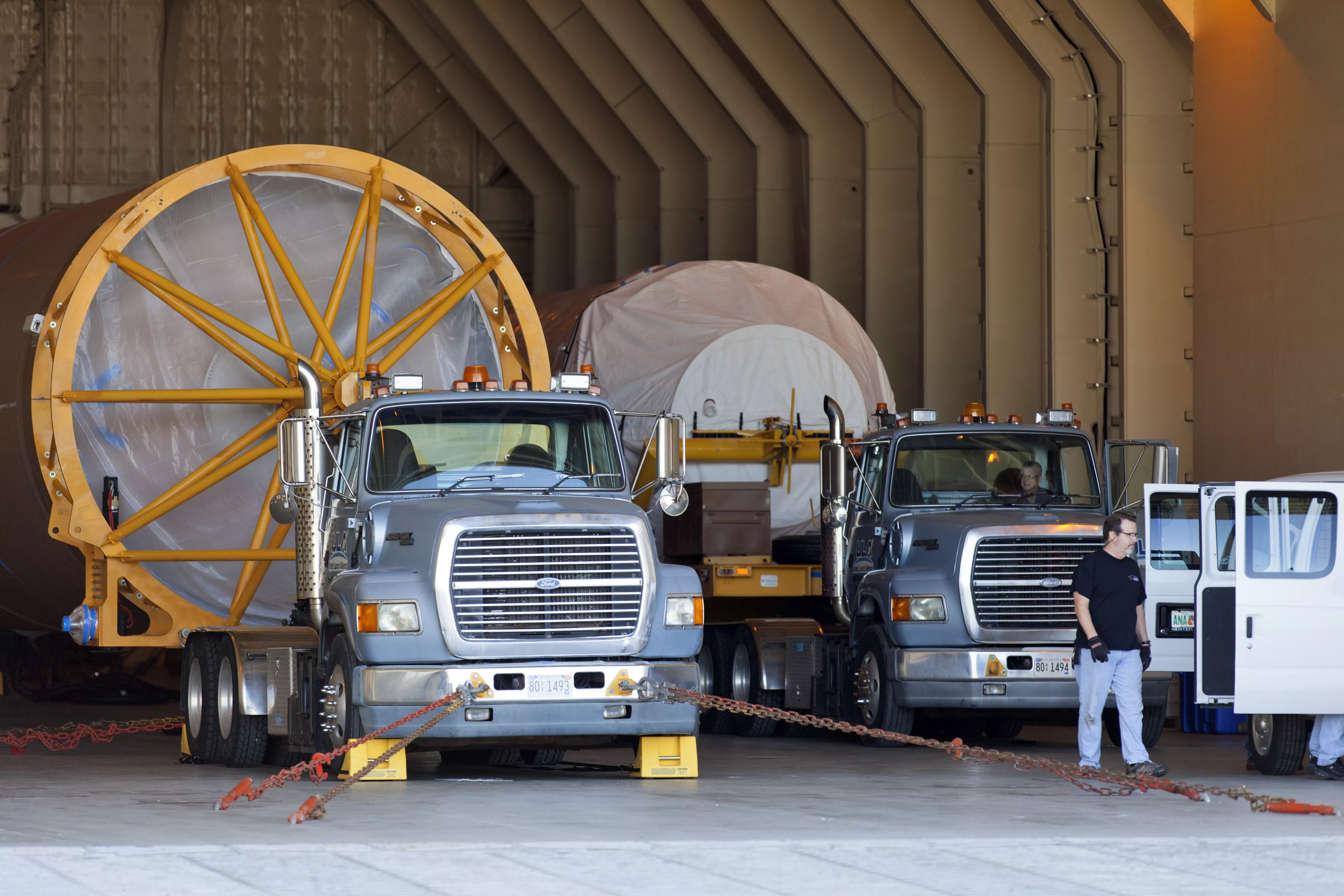 Fueling the Satellite
Getting a satellite into geostationary orbit requires a lot of fuel — more than 5,000 pounds! Fueling needs to be done very carefully as the fuel and its vapors are toxic. The team will prepare for the hazardous operation by donning SCAPE suits (Self-Contained Atmospheric Protective Ensemble) that cover their bodies and provide a clean air source. The team will check out all the equipment, ensuring flow rates are correct and there are no leaks. Then they will test the chemical purity of the hydrazine and pump it into GOES-T's fuel tank. Next, the oxidizer tanks will be filled. Finally, the team will weigh the spacecraft and measure its center of gravity.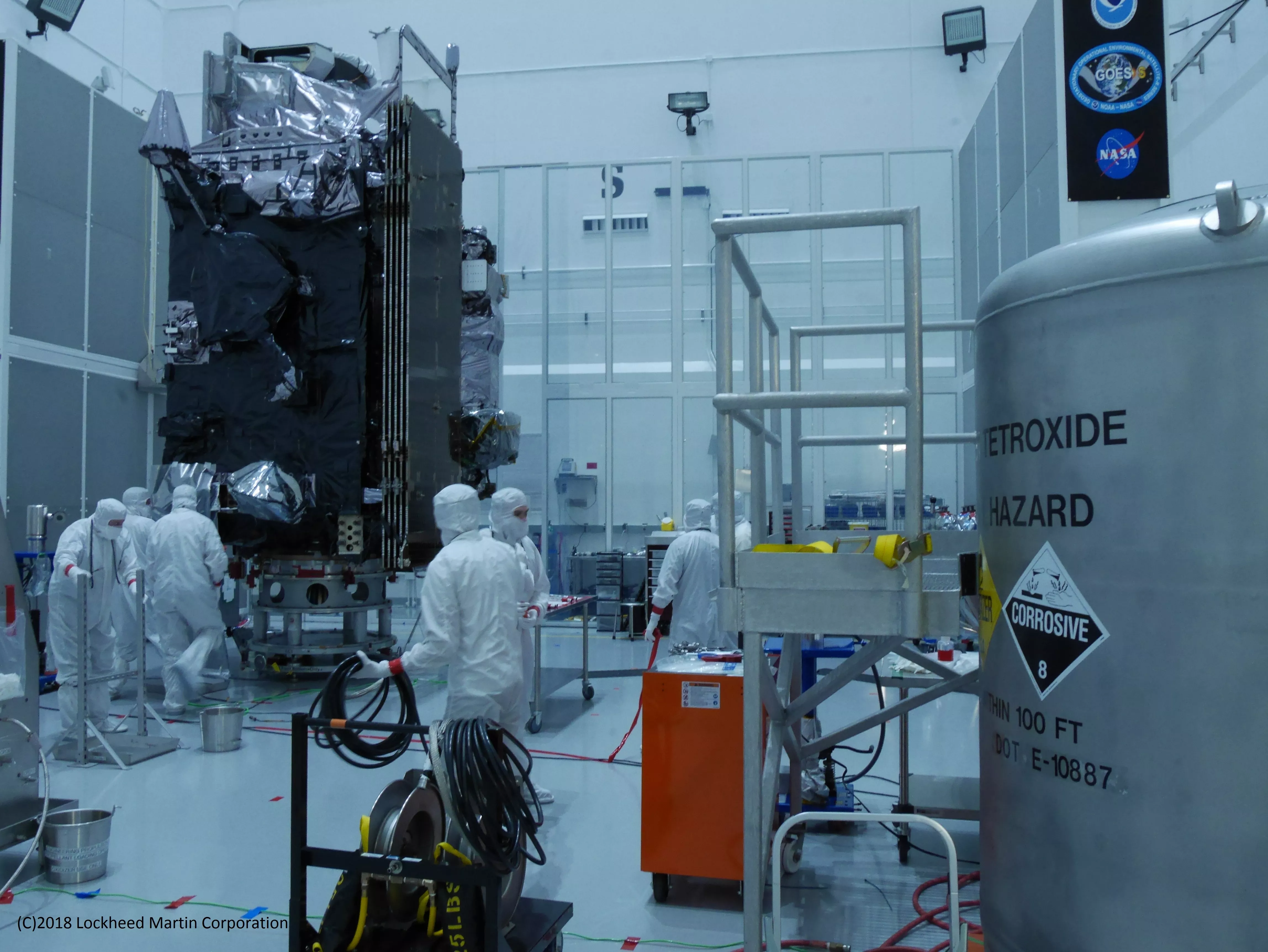 Stacking the Rocket
Next, the components of the launch vehicle will be integrated at the Vertical Integration Facility located at Cape Canaveral Space Force Station's Space Launch Complex 41. First, the Atlas V first stage booster will be lifted into a vertical position. Then engineers will attach four solid rocket boosters to the first stage booster. These will provide extra thrust to get the heavy payload off the launch pad and power the rocket into orbit. Finally, a crane will lift the Centaur upper stage into place atop the Atlas V first stage. Stacking the rocket takes about a week.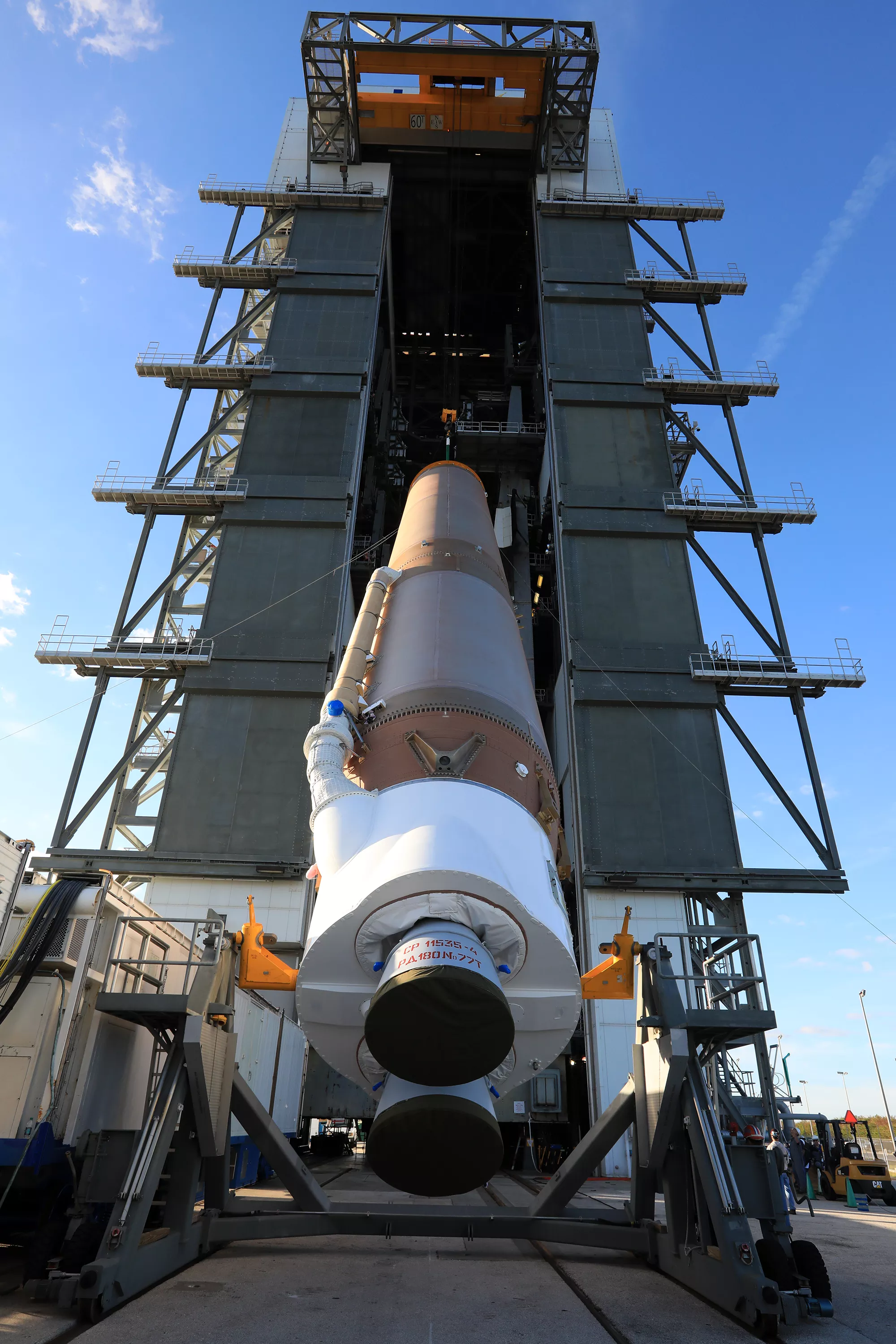 Encapsulating GOES-T in the Payload Fairing
Soon, it will be time for GOES-T to meet its launch vehicle. First, the team must ensure the satellite will be protected on its ascent through Earth's atmosphere and into orbit. To do that, GOES-T will be encapsulated in what's known as the payload fairing. The payload fairing consists of two pieces that come together to secure the satellite inside. Before encapsulating the satellite, each half of the fairing will be carefully inspected and cleaned.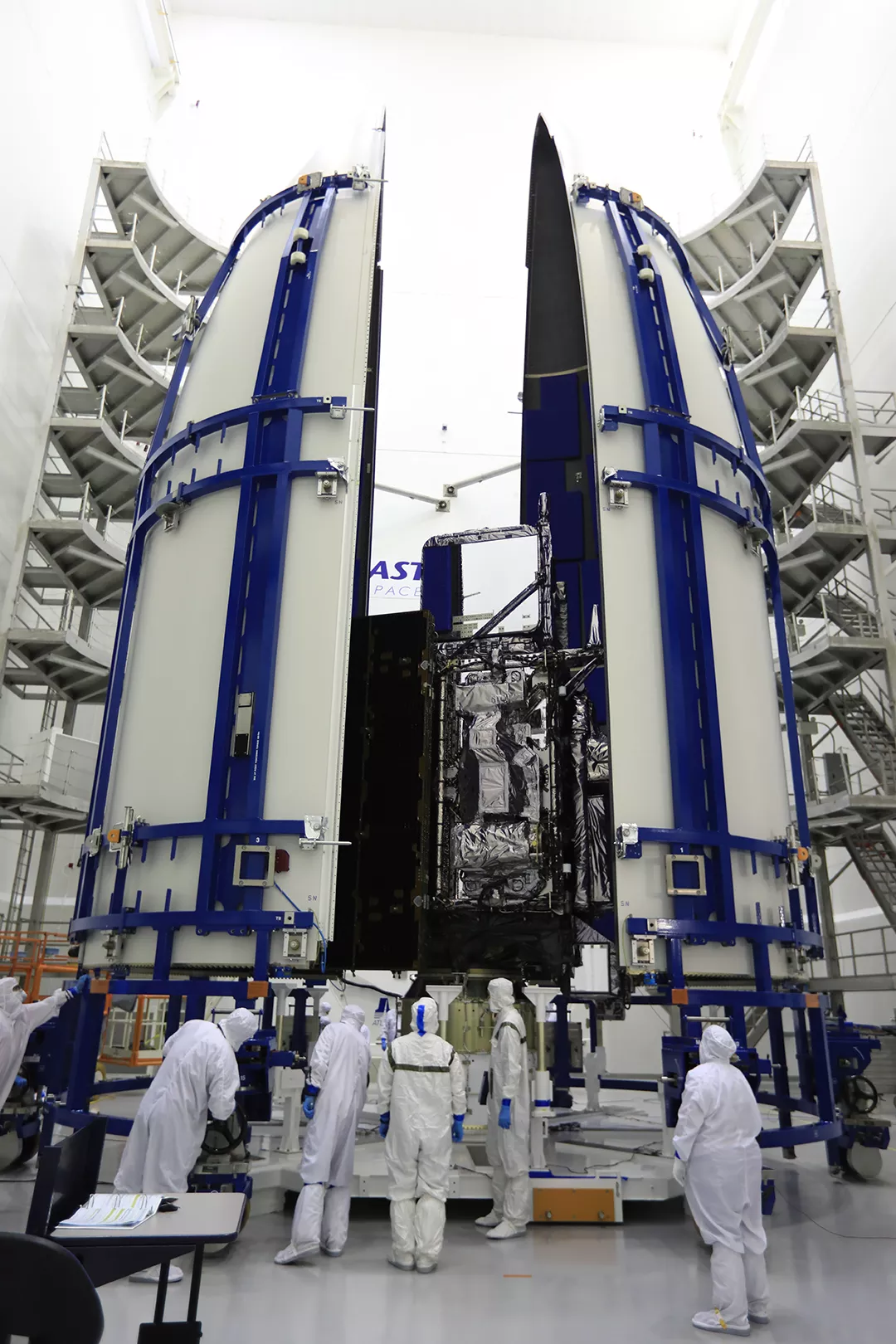 Mating GOES-T to the Launch Vehicle
Now it's time to secure GOES-T atop the rocket that will carry the satellite into space. This process is referred to as mating. First, the fairing containing the satellite will be transported from the Astrotech Space Operations satellite processing facility to the Vertical Integration Facility. There it will meet the launch vehicle, already stacked and awaiting its payload. A crane will lift the payload fairing to mate it with the Centaur upper stage. GOES-T is now almost ready for launch!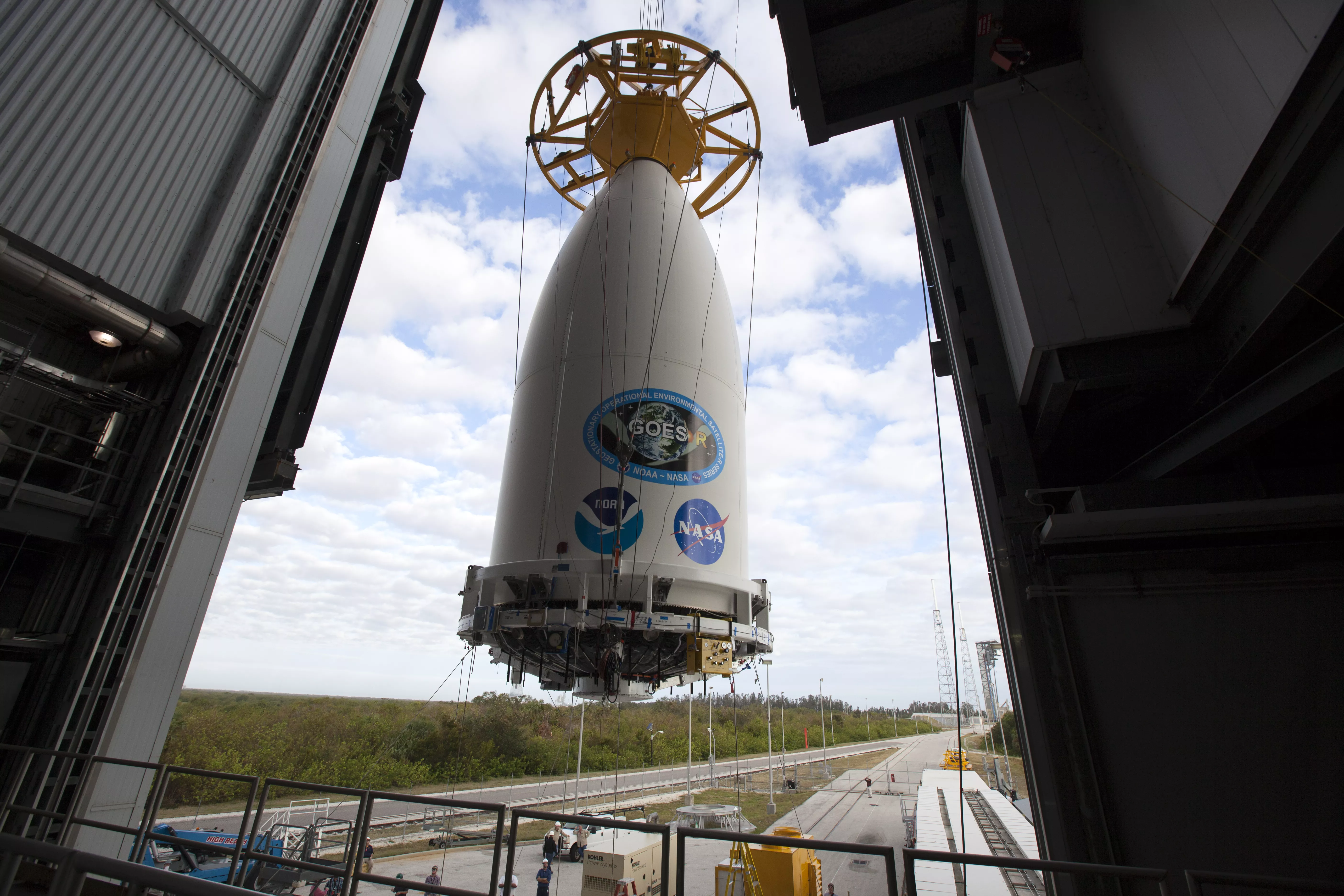 Rollout to the Launchpad
The morning before the launch, the Atlas V rocket and its GOES-T payload will be moved to the launchpad. This is called "rollout" because the rocket will slowly roll to the launch pad on a specialized mobile launch platform. The 1,800 foot trip from the Vertical Integration Facility to the launch pad takes about 30 minutes at a speed of 0.5 mile per hour.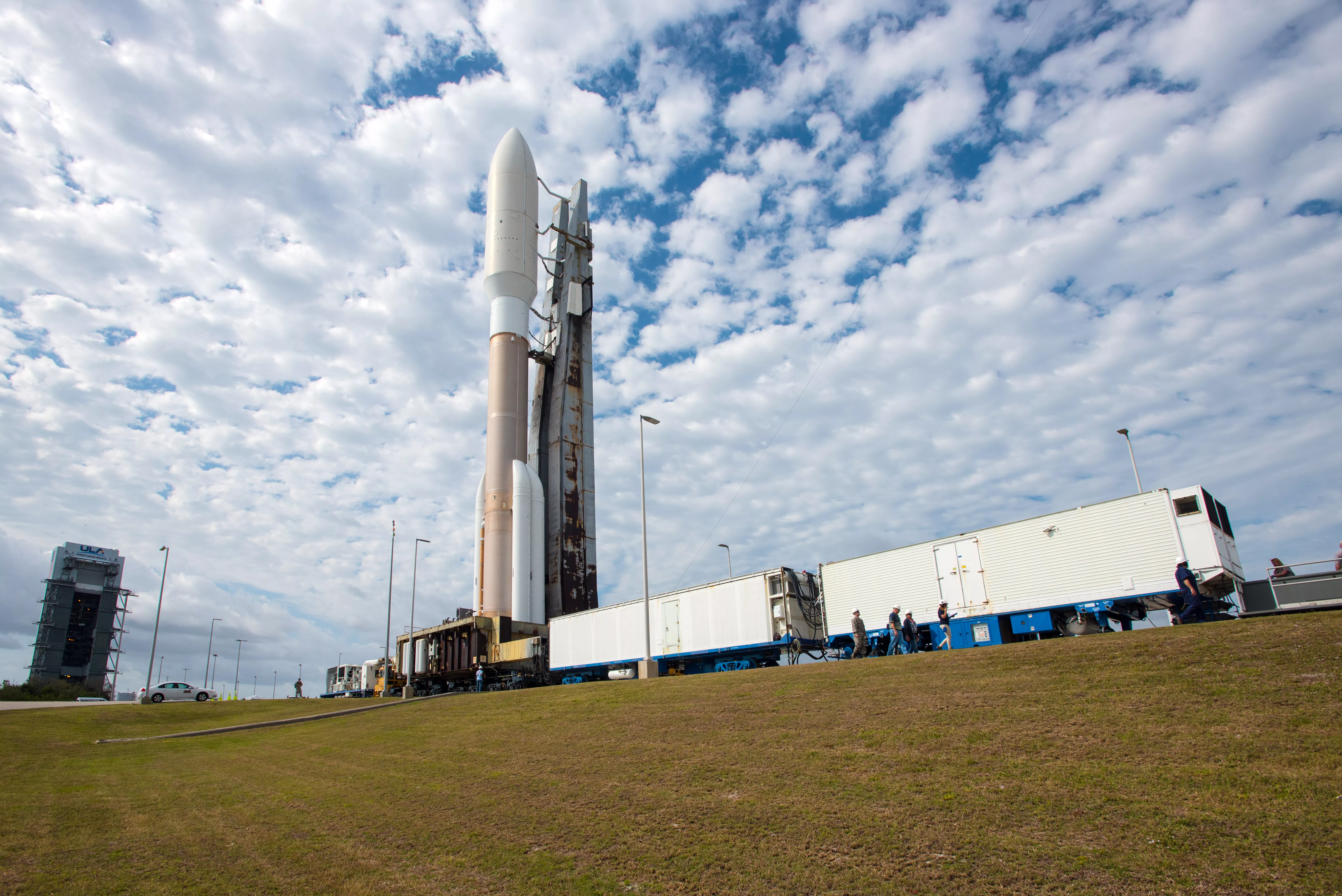 Go Atlas, Go Centaur, Go GOES-T!
Finally, GOES-T is ready to launch into orbit! If all goes according to plan, GOES-T will lift off from Space Launch Complex-41 at Cape Canaveral Space Force Station.